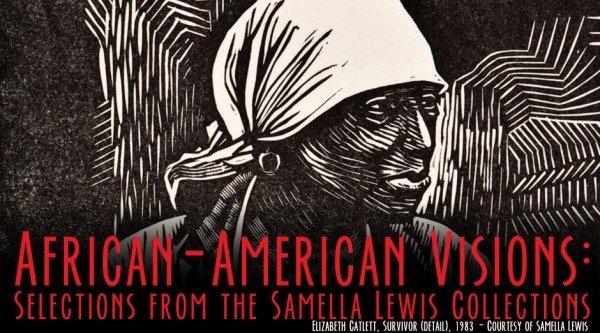 September 1 – October 14, 2012

Dr. Samella Lewis has lived six lives in the space of just one. As a renowned artist, teacher, writer, filmmaker, museum founder, and above all, an advocate for African American artists, she has deeply advanced our awareness of the artistic contributions of the African American community. Her connection to Scripps College goes back over four decades. As the first tenured African American professor at the Claremont Colleges, she taught art history at Scripps College from 1969 to 1984, enriching the experience of art for countless students.
She co-founded the Museum of African American Art in Los Angeles in 1976, offering artists and the community a place to experience art that had long been neglected.
She reached out even further by founding The International Review of African American Art in that same year. The publication, still vibrant after 35 years, communicates and celebrates the myriad contributions of African Americans to the visual arts. Dr. Lewis created the first anthology of African American artists' writings, "Black Artists on Art" in 1969, and added a second volume in 1971. Seven years later, she wrote the first survey of African American art, Art: African American. In total, Dr. Lewis is the author of eleven books on art. Through her books, her films on African American artists, her teaching, the museum she founded and her support of this artistic expression, Dr. Lewis has strengthened the cultural consciousness of her community and the nation.
In homage to Dr. Lewis's many contributions and her abiding connection to Scripps College, the Williamson Gallery presented African American Visions: Selections from the Samella Lewis Collections. This exhibition drew from works in the Samella Lewis Contemporary Art Collection at Scripps College as well as pieces in the private collection of Dr. Lewis.
Works by masters such as Elizabeth Catlett, Richmond Barthé, John T. Scott, John Biggers, Barbara Chase-Riboud, and Samella Lewis herself were displayed. In the spirit of Samella Lewis, the exhibition included pieces by lesser-known artists and by younger, up-and-coming artists. Works that portray aspects of the African American experience were also presented, such as photographs of the jazz greats Ella Fitzgerald, Dexter Gordon, and Billie Holiday.
The exhibition opened on September 1, and the formal opening took place at the gallery on Saturday, September 22, from 7 to 9 pm, with live music and light refreshments. The celebration  that day also featured a panel discussion in the afternoon, from 4 to 5 pm.
More information on African American Visions can be found in the catalog that accompanied the exhibition, available on the Publications Page.