How to Order
First, review the publications listing and make note of the title and price of your selections, then print out and complete our order form.
Mail your completed order form and payment to:
Ruth Chandler Williamson Gallery
Scripps College #1148
1030 Columbia Avenue
Claremont, CA 91711-3948
To order by credit card or obtain additional information regarding our publications, please contact the Gallery's administrative offices at (909) 607-4690.
Ceramic Annual 2020: Scripps College 76th Ceramic Exhibition (2019)
— $20.00

For Sentiment and Skepticism: Our Culture of Contradictions, the 76th Ceramic Annual, curator Joanne Hayakawa, professor emerita at San Diego State University, School of Art and Design, gathered artists whose work engages with and offers a variety of perspectives on the environment through the lens of duality. "Duality," she writes, "Provides a natural tension with questions, definitions and positions. I have chosen artists with diverse approaches to literal and figurative environmental perspectives who seem to be wending their way forward through their choices."
The exhibition and 71-page catalog include these artists: Wesley Anderegg, Richard Burkett, Rebecca Hutchinson, Jeff Irwin, Kate MacDowell, Crystal Morey, James Tisdale, Ted Vogel, Patti Warashina, Stan Welsh, Mary Cale A. Wilson. In full color, the catalog offers an essay by art critic Robert L. Pincus, abundant illustrations in color and 21 pages of color plates.
Ceramic Annual 2019: Scripps College 75th Ceramic Exhibition (2018)
— $20.00
The Ceramic Annual, the longest-running exhibition of contemporary ceramics in the nation, turned 75! In the spirit of celebration, Curator Kirk Delman selected 75 works from the College's Marer Ceramic Collection. This exhibition features an exciting compilation of works, some of which have not been seen for more than 30 years. Fred Marer, an unassuming man with a good eye for ceramics, befriended and supported some of the most acclaimed ceramic artists of the period. It was a time of revolution for clay, when artists were insisting that the medium could be used as skillfully as any other to create high art. Artists in the exhibition reflect that spirit. They include: Peter Voulkos, Paul Soldner, John Mason, Ken Price, Henry Takemoto, Michael Frimkess, Billy Al Bengston, Jun Kaneko as well as, Karen Karnes, Beverly Magennis, Vince Suez, and Carlo Zaulli.
John Mason, Sculpture 1950 – 2010 (2018): — $35.00
This is the first in-depth study of John Mason's rich oeuvre from the mid-1950s to the present, charting his exploration of the expressive possibilities of clay sculpture through an array of forms ranging from the expressionist to geometric. After World War II, Los Angeles was the site of a "revolution in clay," in which a small group of artists challenged studio pottery's traditional focus on utilitarian ware and created sculptural forms with the medium. In the mid to late 1950s, Mason, along with Peter Voulkos and colleagues at Otis Art Institute, led the rise of a vanguard California ceramics movement. For fifty years, Mason has continued to produce compelling clay sculpture. Here, editor Mary Davis MacNaughton and writers Jeff Kelley, John O'Brien and Suzanne Muchnic demonstrate how John Mason emerged as a sculptor of power, creating new works in clay that claimed equal footing with art in other media.
Ceramic Annual 2018: Scripps College 74th Ceramic Exhibition (2017)  — $20.00
Different and uncomfortable, beautiful and compelling, Stories Without Borders: Personal Narratives in Clay, the 74th Scripps College Ceramic Annual exhibition, makes room for a wide variety of perspectives expressed in clay. It celebrates artists from many backgrounds whose work addresses their social and cultural experiences. Patsy Cox, professor of Visual Art, California State University, Northridge, is the show's guest curator. She had a particular interest in featuring multiple perspectives in this Annual. Participating artists include Jennifer Ling Datchuk, Christina Erives, Steven Young Lee, Roberto Lugo, Kyungmin Park, Zemer Peled, and Roxanne Swentzell.
Revolution and Ritual: The Photographs of Sara Castrejón, Graciela Iturbide and Tatiana Parcero (2017) — $29.95
War, indigenous cultures and inner transformation ferment in Revolution and Ritual: The Photographs of Sara Castrejón, Graciela Iturbide and Tatiana Parcero. In this exhibition, the Williamson focuses on the works of three Mexican women photographers who explore and transform notions of Mexican identity in images that range from the documentary to the poetic. While Sara Castrejón's photos portray people under the intense pressure of war, Graciela Iturbide's images shed light on life in Mexico's indigenous cultures. Tatiana Parcero takes the medium in yet another direction, creating self-portraits that incorporate spliced images of her body with cosmological maps and Aztec codices. By bringing their work into conversation, Revolution and Ritual invites readers to consider how photography has been transformed over the past century in Mexico and how it continues to respond to artists' interest in representing present and past, self and other.
This exhibition is accompanied by a full-color catalog with essays by leading scholars in Latin American photography, including John Mraz (Photographing the Mexican Revolution, 2012), Marta Dahó (Graciela Iturbide, 2011), and
Esther Gabara (Errant Modernism: The Ethos of Photography in Mexico and Brazil, 2008), and plates devoted to each artist.
Ceramic Annual 2017: Scripps College 73rd Ceramic Exhibition (2016)  — $20.00
"In the soul of man there lies one insular Tahiti," wrote Melville. It is an individual experience of a place, only to be reached by traveling inward. The master ceramicists featured in A Sense of Place, this year's Scripps College Ceramic Annual, use clay to communicate the landscapes that they carry within, usually by alluding to a specific part of the country, whether Appalachia, Upper New England, the rural farmland of Minnesota, or the urban landscape of California. Those artists are Chris Antemann, Jeff Oestreich, Diego Romero, Red Weldon Sandlin, Porntip Sangvanich, Michael Sherrill, Anna Silver, Mara Superior, and Ehren Tool. This year's curator, Joan  Takayama-Ogawa, is professor of Ceramics and Product Design at Otis College of Art and Design. This full-color illustrated catalog features an essay by well-known art writer Jo Lauria.
Ceramic Annual 2016: Scripps College 72nd Ceramic Exhibition (2015)  — $20.00


Beyond the Object, the title of the 72nd Ceramic Annual, was guest curated by Susan Beiner, associate professor of art at the Herberger School of Design and the Arts at Arizona State University. For the Ceramic Annual, Beiner  included pieces by Andrew Casto, Bryan Czibesz, Lauren Gallaspy, Oona Gardner, Brian Gillis, Julia Haft-Candell, Del Harrow, Paul Sacaridiz, and Amanda Small. This exhibition compares the processes of "sight" for 2-D drawings and "touch" for 3-D ceramic forms. Beiner said, "I chose these nine artists for their non-traditional use of materials and their contemporary approach to ceramic art making. Additionally, they all display a distinctive process of working with elements found in both drawing images and building ceramic forms." This full-color illustrated catalog features an essay by art writer Shana Nys Dambrot.
Preserving China's Past: Paintings of the Ming-Qing Dynasties (2015)  — $15.00


Scripps College has a large collection of paintings from China dating to the Ming and Qing Dynasties (1368-1644 and 1644-1912). In recent years, over 30 paintings have been painstakingly conserved. These conserved Chinese paintings, subject of an exhibition at the Ruth Chandler Williamson Gallery in 2015, are displayed in 33 plates in this full-color catalog.  Daoist paintings depict sages and immortals; Buddhist paintings feature monks and bodhisattvas; several images show butterflies, birds and flowers, or scholars and ladies in garden settings. Delicately detailed pictures of birds and flowers are contrasted to quickly brushed impressions of nature. In addition, the first section of the catalog offers numerous photographs, documenting the restoration process of Hisaji Sekichi, who, for his work on the restoration of Asian art, was honored with the designation of National Treasure in Japan.
Ceramic Annual 2015: Scripps College 71st Ceramic Exhibition (2014)  — $20.00
The guest curator for this Ceramic Annual was  Julia Haft-Candell, a Lincoln visiting professor at Scripps College and Claremont Graduate University. Haft-Candell chose artists for the 71st Ceramic Annual that reflect her free and eclectic approach. The group includes Nicole Cherubini, Jessica Hans, Jun Kaneko, Linda Lopez, Anton Reijnders, Brie Ruais, Kathleen Ryan, and Betty Woodman – artists whose individual works first appear dissonant, yet resonate in an underlying harmony when shown together. Haft-Candell says the pieces in the show "hint at the familiar and steer towards the indefinable." This full-color illustrated catalog features an essay by renowned art writer Leah Ollman.
Women and Print: A Contemporary View (2014) — $20.00

Women and Print: A Contemporary View is the fifth in a series dedicated to outstanding women artists. Identity, nature, and science predominate in this exhibition of contemporary printmaking. Through these themes, Women in Print investigates the art of the print. National in scope, the exhibition features 66 works by 27 artists, showcasing leading women printmakers who are working in new ways, often combining traditional and digital processes to produce hybrid prints with fresh expressive dimensions. Together, these works reveal the strength of work produced by women printmakers today. The list of artists includes: J. Catherine Bebout; Anita Bunn; Sophie Calle; Squeak Carnwath; Amy Ellingson; Bernice Ficek-Swenson; Nancy Friese/Laurel Reuter; Monica Furmanski; Ellen Gallagher; Sandy Gellis; Catherine Kernan; Amanda Knowles; Karen Kunc; Sylvia Lark; Nancy Macko; Julie Mehretu; Karen Oremus; Ruby Osorio; Barbara Robertson; Rita Robillard; Paula Roland; Alison Saar; Mary Schina; Alyson Shotz; Pat Steir; Michelle Stuart; Sherrie Wolf. This full-color catalog with essays on the works' focal points of environment, politics, and science accompanied the exhibition.
Ceramic Annual 2014: Scripps College 70th Ceramic Exhibition (2013)  — $20.00
To celebrate the 70th anniversary of the longest-running exhibition of contemporary ceramics in the nation, the catalog highlights its artist curators, from the Annual's earliest days in World War II to the present. The first group of curators includes Scripps Professors of Ceramics who organized many years of exhibitions: William Manker (1945-46), Richard Petterson (1947-1958), Paul Soldner (1951-1991), Nobuho Nagasawa (1992-1995).The second group is composed of artists from outside Scripps. In 1996, the Williamson Gallery director began inviting guest curators to organize the Annual. This catalog  includes works by twenty artists from across the country, presented here in order of their participation from 1945 to 2013: William Manker, Richard Petterson, Paul Soldner, Nobuho Nagasawa. Kris Cox, Douglas Humble, Cindy Kolodziejski, Kathleen Royster Lamb, David Furman, Adrian Saxe, Nancy Selvin, Karen Koblitz, Tony Marsh, Steven Portigal, Tony Hepburn, Phyllis Green, Adam Davis, Wayne Higby, Tim Berg, and Virginia Scotchie.
Focus on Photographs: Building a Collection at Scripps College (2013) – $40.00
Focus on Photographs tells the story of the genesis and growth of a teaching collection of photographs at Scripps
College in Claremont, California. Featuring eighty-two works from the nineteenth century to the present, this book displays images that make the history and practice of photography come alive across a number of subjects, including portraiture, travel, documentary, nature, and the body. A wide range of techniques highlight photography's intersection of art and technology, including 1850s salt-print images of the Crimean War by Roger Fenton; 1860s albumen-print portraits of Victorian luminaries by Julia Margaret Cameron; and 1940s silver gelatin-prints of the Sierra Nevada by Ansel Adams. Also highlighted are works by women photographers; in addition to Cameron are Diane Arbus, Lucienne Bloch, Anne Brigman, Laurie Brown, Joyce Campbell, Paula Chamlee, Eileen Cowan, Imogen Cunningham, Lena Herzog, Graciela Iturbide, Helen Levitt, Nancy Macko, Barbara Morgan, Margarethe Mather, Sheila Pinkel, Eva Rubinstein, Susan Rankaitis, Leslie Sokolow, Doris Ulmann, and Carrie Mae Weems. In addition to essays by Ken Gonzales-Day, Mary MacNaughton, Judy Harvey Sahak, and Heather Waldroup, this book includes commentaries by professors
at Scripps and student interns at the Ruth Chandler Williamson Gallery.
Ceramic Annual 2013: Scripps College 69th Ceramic Exhibition (2012)  — $20.00
Denatured Nature, the title of the 69th Ceramic Annual, was guest curated by Virginia Scotchie, professor of art and the head of ceramics at the University of South Carolina. Scotchie's work can be found in numerous public collections, including Alfred University, Alfred, New York; Asheville Museum of Art, North Carolina; Kruithuis Museum, s'Hertogenbosch, The Netherlands; and the Yingee Ceramic Museum, Taipei, Taiwan. The theme of this exhibition was inspired by the field of science. Taking the scientific term, denature, meaning to remove or diminish the original properties of a protein, Scotchie invited artists who alter objects via a variety of techniques—including misdirection and irony— to participate in the exhibition. Scotchie explained: "Denatured Nature is an exhibition that presents ceramic artists who enlist the use of change to explore the natural qualities of familiar objects." Those artists include: Frieda Dean, Alexandra Hibbitt, Richard Hirsch, Priscilla Hollingsworth, Bri Kinard, Rebecca Manson, Jon McMillan, Jeffrey Mongrain, Kate Roberts, and Adam Shiverdecker.
Genji's World in Japanese Woodblock Prints (2012) — $100.00 (plus $10.00 shipping)
By Andreas Marks editor and author, with contributors Bruce A. Coats, Michael Emmerich,
Rhiannon Paget, Susanne Formanek, Sepp Linhart, color, 256 pages, Hotei Publishing, hard cover. This publication provides the first comprehensive overview of Genji prints, an exceptional subject and publishing phenomenon among Japanese woodblock prints, that gives insight into 19th-century Japan and its art practices. In the late 1820s,  a new genre in Japanese woodblock prints began that would flourish until the turn of the century: Genjie ("Genji pictures"). During these sixty years, over 1,300 original designs were created, many very popular at the time of their release. As the foremost collection of prints in existence on this subject, the extensive holdings of Paulette and Jack Lantz provided the majority of images necessary for this publication.

African American Visions: Selections from the Samella Lewis Collection (2012) — $10.00

Edited by Mary MacNaughton, 36 color plates, 102 pages. Paperback. As a renowned artist, teacher, writer, filmmaker, museum founder and aboveall, an advocate for African American artists, Dr. Samella Lewis has deeply advanced our awareness of the artistic contributions of the African American community. Her connection to Scripps College goes back over four decades, and includes teaching art history at the college from 1969 to 1984. In homage to Dr. Lewis's many contributions and her abiding connection to Scripps College, the Williamson Gallery presented African American Visions: Selections from the Samella Lewis Collections. This exhibition and accompanying publication drew from works in the Samella Lewis Contemporary Art Collection at Scripps College as well as pieces in the private collection of Dr. Lewis. Works in the publication include masters such as Elizabeth Catlett, Richmond Barthé, John T. Scott, John Biggers, Barbara Chase-Riboud, and Samella Lewis herself. In the spirit of Samella Lewis, the catalog includes pieces by lesser-known artistsand by younger, up-and-coming artists. Every work in the catalog is accompanied by a brief essay. The essays were written by a wide variety of authors, many of them members of Scripps faculty, each choosing a work to focus on and then taking a very personal approach in addressing the work.
Clay's Tectonic Shift: John Mason, Ken Price and Peter Voulkos,
1956-1968 (2011) — $35.00

Edited by Mary MacNaughton, contributions by Michael Duncan, Frank Lloyd, Mary Davis MacNaughton, Suzanne Muchnic, Peter Plagens, and Karen Tsujimoto, 64 color plates, 231 pages. Paperback. As part of the Getty's Pacific Standard Time, the largest initiative of its kind ever in Southern California, telling the story of art from WWII to 1980 in Los Angeles, the Williamson focuses on three of the most innovative and dynamic artists of the era, whose work forever changed the way ceramics would be regarded. This publication focuses on Mason, Price and Voulkos and their radical early work in postwar Los Angeles where they formed the vanguard of a new California ceramics movement. The three artists broke from the craft tradition that emphasized the functionality of ceramics. Experimenting with scale, surface, color, and mass, their work was instrumental in elevating ceramics from craft to fine art. This exhibition was Scripps College's 68th Ceramic Annual.
Sense and Sensation: Laurie Fendrich, Paintings and Drawings 1990-2010 (2010)
— $20.00
Preface by Mary MacNaughton, essay by Mark Stevens, and artist interview by Julie Karabenick. 35 color plates, 95 pages. Paperback.
In this first retrospective of Laurie Fendrich's works, her paintings and drawings are brought together to showcase her update of geometric abstraction. While committed to pursuing an elusive ideal of the perfect geometric form, she eschews rulers or mechanical guides, using only the precision of her own hand, giving a human quality to even the most impersonal square. As her shapes jostle for position, her deep and warm colors startle and delight.In his catalog essay "Scale, Comedy and the Little Bow-wow," Mark Stevens discusses the affinity between Fendrich's works and the highly crafted novels of Jane Austen, whom Fendrich greatly admires. An in-depth interview, "In Conversation with Laurie Fendrich," by Julie Karabenick, editor of Geoform, offers fresh insight into Fendrich's distinctive vision and process.
Ceramic Annual 2011: Scripps College 67th Ceramic Exhibition (2011) — $20.00
Tim Berg, assistant professor of art at Pitzer College, guest curated the 67th Scripps Ceramic Annual. Berg has had solo exhibitions at Nääs Konsthantverk Galleri, Gothenburg, Sweden; Dean Project Gallery, in Long Island City, New York; and Siegfried Gallery, Ohio University, Athens, Ohio. For this exhibition, entitled
Making Fun
, Berg selected works by: Barnaby Barford, Pattie Chalmers, Gerit Grimm, Ayumi Horie and Sara Varon, Janice Jakielski, Mathew McConnell, Peter Morgan, Thomas Müller, Brendan Tang, and Matt Wedel. While the common denominator of the works is playfulness, each also challenges the viewer on a number of levels.
Ceramic Annual 2010: Scripps College 66th Ceramic Exhibition (2010) — $20.00
Material Matters: Art and Phenomena
, the 66th Ceramic Annual, features works from celebrated master ceramists as well as new artists working on the very cusp of the art form.  Curator, artist and educator Wayne Higby, chose the theme, "Material Matters," to express the idea that the relationship shared by material, process, and idea is a factor crucial to understanding any work of art. The pieces featured in the exhibition each offer a unique demonstration of this concept. Artists include: Eliza Au, Benjamin DeMott, Claire Hedden, Hongwei Li, Howard Kottler, Maria Martinez, Walter McConnell, Chris Miller, Tom Schmidt, Paul Soldner, Peter Voulkos, Betty Woodman, Yao YongKang, and Guozhen Zhou.
Ceramic Annual 2009: Scripps College 65th Ceramic Exhibition (2009) — $20.00
The 65th Ceramic Annual was curated by Scripps College Assistant Professor of Ceramics Adam Davis. He selected artists Tori Arpad, Christy Gast, Jeff Irwin, Charles Krafft, Io Palmer, Katherine L. Ross, Anders Ruhwald, and Reinaldo Sanguino to celebrate Scripps' ceramics tradition. He has titled the Annual, "Wearing It On Your Sleeve: Sympathizers, Empathizers, Provocateurs," because the works in the show "provoke and challenge their viewers to focus in on marginalization."
Ceramic Annual 2008: Scripps College 64th Ceramic Exhibition (2008) — $12.00
The 64th Ceramic Annual was curated ceramicist Phyllis Green, who has taught Ceramics at University of Southern California, Loyola Marymount, and University of Colorado Boulder. She has selected ceramic artists — MyungJin Choi (PA), Sadashi Inuzuka (MI), Jim Melchert (CA), Jeanne Quinn (CO), Charles Long (CA), and Annabeth Rosen (CA) — who will collaborate with artists working in new media. The full-color catalogue includes an essay by arts-based journalist Scarlet Cheng, who often writes for The Los Angeles Times.
Place in Time (2008) — $15.00
With the rapid changes to the environment through technology, a new concept of the artistic landscape has developed. Contemporary artists have commented on these changes by rendering man-made landforms and instant cities on canvas and in print, while others are drawing attention to them by capturing dramatic skies and vibrant flora, which are increasingly precious natural phenomena. This new consciousness of habitat was explored in the exhibition Place in Time: Contemporary Landscape at the Williamson Gallery, curated by Williamson Gallery Director Mary Davis MacNaughton '70. The artists, Ciel Bergman, Nancy Friese, Karen Kitchel, Rita Robillard, Sandra Mendelsohn Rubin, and Scripps alumnae Laurie Brown '59, Monica Furmanski '96, and Idelle Weber '54, offer their disparate interpretations of landscape imagery through their respective aesthetics. Using various media ranging from oil on canvas, linen, and panel, to digital chromogenic photography, they depict the intersection of site and memory, provoking inquiry and reflection in the contemporary viewer
Ceramic Annual 2007: Scripps College 63rd Ceramic Exhibition (2007)
— $12.00
39 color illustrations, 52 pages (2007). Paperback.
The 63rd Ceramic Annual was curated by ceramicist Tony Hepburn, Head of Ceramics at Cranbrook Academy, Bloomfield Hills, MI, who has selected works by artists from across the country: Marek Cecula, Robert Dawson, Shannon Goff, Hella Jongerius, KAHLA porcelain, Paul Kotula, Geert Lap, Steven Mankouche and Abigail Murray, Jim Shrosbree, and Christie Wright. The full-color catalogue will include an essay by Guest Curator, Tony Hepburn, who is a regular contributor to magazines, including 
American Ceramics, Ceramics: Art and Perception, American Craft and Ceramic Review
. He is also co-author with Marsha Miro of 
Robert Turner: Shaping Silence, A Life in Clay
(2003).
Ceramic Annual 2006: Scripps College 62nd Ceramic Exhibition (2006)
— $10.00
41 color illustrations, 56 pages (2006). Paperback.
The 62nd Ceramic Annual was curated by Steven Portigal, Chair of Art and Design at Cerritos College in Norwalk, CA. He conducted extensive research to select works by twelve artists from the US and Europe. They include: Luis Bermudez, Michael Geersten, Babs Haenen, Steven Heinemann, Eva Hild, Robert Hudson, Christine McHorse, Gustavo Perez, Nicholas Rena, Goro Suzuki, Howard Tollefson, and Robert Turner. All of the work in this exhibition embraces the concept of transformation. The Annual catalogue also includes the Curator's Statement and an essay entitled "Clay, In Its Rightful Place" by Leah Ollman, an art critic for the 
Los Angeles Times
and a corresponding editor for 
Art in America
.
Chikanobu: Modernity and Nostalgia in Japanese Prints (2006)
— $39.95
270 full color illustrations, 208 pages (2006). Softbound.
This is the first monograph in English on the Meiji print artist Yoshu Chikanobu (1838-1912), well known for his depictions of women and scenes of Japanese history.Author Bruce A. Coats presents a detailed overview of Chikanobu's life and works, place within the historical and artistic context of Meiji Japan, when its rapid modernization and westernization created an interest for 'old' Japan among the Japanese and when the arts underwent significant changes as well. Essays by Bruce A. Coats, Allen Hockley, Kyoku Kurita and Joshua Mostow draw upon various topics related to Chikanobu's work, such as Meiji literature and the heroic ethos in the late Meiji period.Works donated to the Scripps College collection from the core of the illustrative material. The images are accompanied by elaborate descriptions and in a number of cases compared with similar designs from other artists.With over 270 full color illustrations, 
Chikanobu: Modernity and Nostalgia in Japanese Prints
truly displays the richness of the intense Meiji print palette.
Anthony Caro – A Life in Sculpture: The Kenwood Series (2005)
— $24.00
Hardcover.
Ceramic Annual 2005: Scripps College 61st Ceramic Exhibition (2005)
— $10.00
13 color illustrations, 39 pages (2005). Paperback.
The catalogue for the 2005 Ceramic Annual exhibition, produced by Perpetua Press. The show was curated by Tony Marsh, Professor of Ceramics at California State University, Long Beach, and the catalogue includes an essay by Christopher Miles, Assistant Professor of Art Theory and Criticism at CSU Long Beach. For the 61st Ceramic Annual, he has chosen a diverse group of six artists, several of whom made works for the Annual this summer at CSU Long Beach. The exhibition includes work by Dave Hicks, Nina Jun, Hwa Jin Lee, Kristen Morgin, Vince Palacios, and Sun Koo Yuh.
Ceramic Annual 2004: Scripps College 60th Ceramic Exhibition (2004)
— $25.00
115 color illustrations, 189 pages (2004). Paperback.
This Ceramic Annual is organized in honor of Professor Emeritus Paul Soldner, who for thirty years taught at Scripps and organized many Ceramic Annual exhibitions. The success of the exhibitions, now in their 60th year, is rightly attributed to Paul's creative leadership.The 60th Ceramic Annual presents the work of more than 100 contemporary artists who have had a major impact on the field of ceramic art including Laura Andreson, Rudy Autio, Ralph Bacerra, Bennett Bean, Phil Cornelius, Val Cushing, Michael and Magdalena Frimkess, Otto Heino, Wayne Higby, Karen Karnes, Ryoji Koie, Tony Marsh, John Mason, Harrison McIntosh, Jim Melchert, Ron Nagle, Elsa Rady, Jerry Rothman, Kathleen Royster, Adrian Saxe, Richard Shaw, Henry Takemoto, Irv Tepper, Peter Voulkos, Patti Warashina, Paula and Robert Winokur, and Betty Woodman.The illustrated catalogue includes essays by Garth Clark, President and Director of Garth Clark Galleries in New York and Long Island; Susan Peterson, Professor Emeritus at Hunter College and author of numerous books on ceramics, including Working With Clay (Prentice Hall); and Mary Davis MacNaughton, Director of the Ruth Chandler Williamson Gallery, who organized the exhibition and catalogue, Paul Soldner: A Retrospective (1991).
Reading Meaning: Word and Symbol in the Art of Squeak Carnwath, Lesley Dill, Leslie Enders Lee, and Anne Siems (2004)
— $15.00
22 color illustrations, 55 pages (2004). Paperback.
Visual and verbal imagery have long coexisted modern and contemporary art. From Pablo Picasso's paint and paper collages to Jenny Holzer's electronic-diode sculptures, artists have seen words not only as text but also as visual elements. This exhibition examines the work of four contemporary artists-Squeak Carnwath, Lesley Dill, Leslie Enders Lee, and Anne Siems-who incorporate words and symbols in their artistic practice. The catalog, produced by Perpetua Press, features an essay by guest curator Margaret Matthews-Berenson.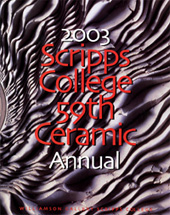 Ceramic Annual 2003: Scripps College 59th Ceramic Exhibition (2003)
— $10.00
20 color illustrations, 48 pages (2003). Paperback.
For the 59th year, Scripps College hosted the Ceramic Annual, the best known continuous exhibition of contemporary ceramics in the United States. The 2003 exhibition, entitled "EcoRhythmics: Color and Texture in Clay, linked the concept of ecology with the rhythm or movement created by patterns, lines, forms, and colors in nature.
"A pulsating sea of voluptuous form and succulent color; a resonating wave of rippling water or wind swirling wildly outward from a vortex; parched earth crackling beneath cascading bowls – These are some of the images evoked by the works of eleven artists in the 59th Scripps Ceramic Annual… Through recurring color, cadence, pattern, rhythm, and texture, these artworks celebrate nature. Some pieces suggest ecological environments, while others allude to ornamental architecture, distant cultures, or natural science." – Karen Koblitz
Featuring works by: Susan Beiner, Margaret Boozer, Robert Devers, Eddie Dominguez, Cary Esser, Amanda Jaffe, Marc Leuthold, Mary Roehm, Joann Schnabel, Virginia Scotchie, and Mike Vatalaro. Curated by Karen Koblitz.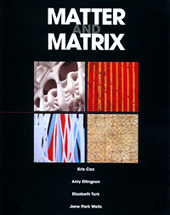 Matter and Matrix (2003)
— $15.00
With an essay by Mary Davis MacNaughton. 15 color illustrations, 38 pages (November 2003). Paperback.
This catalogue accompanied the exhibition in the Fall of 2003. The catalog and exhibition examine the idea of networks through the work of Kris Cox, Amy Ellingson, Elizabeth Turk, and Jane Park Wells. The artists deal with the idea of visual connectivity through the use of formal matrices. From the global economy to the cellular realm to the World Wide Web, networks permeate our lives. The works in "Matter and Matrix" visualize the artists imaginations and reveal the pattern-seeking nature of the human mind.
Aldo Casanova: A Retrospective (2002)
— $20.00
Essay by Suzanne Muchnic. 87 color and 31b & w illustrations, 87 pages (2002). Hardback.
This catalogue, and the exhibition it documents, celebrates the sculptural era of Aldo Casanova, who, during three decades of teaching at Scripps, enriched the artistic life of the college. Mr. Casanova's works are in major public and private collections and have won the recognition of his peers. Recipient of a Rome Prize Fellowship in Sculpture, Mr. Casanova was elected in 1992 to the National Academy of Design, and in 1994 was made a Fellow of the National Sculpture Society. During his career at Scripps he inspired many artists, who are now practicing sculptors. This book pays tribute to his life and his legacy as a teacher.
Ceramic Annual 2002: Scripps College 58th Ceramic Exhibition (2002)
— $10.00
24 color illustrations, 48 pages (2002). Paperback.
For the 58th year, Scripps College hosted the Ceramic Annual, the best known continuous exhibition of contemporary ceramics in the United States. The 2002 exhibition examined the theme of abstraction, through the work of twelve artists whose abstractions replace the raw physicality of the Abstract Expressionists with an eloquent, intellectual investigation into form and surface. Featuring works by: Bean Finneran, Dennis Gallagher, Yoonchung Kim, Yih-Wen Kuo, Brad Miller, Kevin Nierman, Kathleen Royster, Robert Sperry, Andrée Singer Thompson, Angela Verdon, Jamie Walker, and Susan York. Curated by Nancy Selvin.
Ceramic Annual 2001: Scripps College 57th Ceramic Exhibition (2001)
— $10.00
14 color illustrations, 32 pages (2001). Paperback.
For the 57th year, Scripps College hosted the Ceramic Annual, the best known continuous exhibition of contemporary ceramics in the United States. The focus of the 2001 exhibition was the theme "Between Thee and Me: Objects of Agency." This theme is explored through the work of seven contemporary ceramic artsts, examining the potential for an object to become an outward and visible sign of inward and spiritual grace, and serve as a conduit of emotion and memory for both the maker and the "user" of the object. Featuring works by: Kate Blacklock, Kathy Butterly, Marek Cecula, John DeFazio, Joel Otterson, Annabeth Rosen, and Arnie Zimmerman. Curated by Adrian Saxe.
Ceramic Annual 2000: Scripps College 56th Ceramic Exhibition (2000) — $10.00
For the 56th year, Scripps College hosted the Ceramic Annual, the best known continuous exhibition of contemporary ceramics in the United States. The focus of the 2000 exhibition was the work of twelve mid-career artists who have worked with clay as their primary medium for at least twenty years. Featuring works by: Robert Brady, Mark Burns, Syd Carpenter, Harris Deller, Christine Federighi, Joanna Hayakawa, Tony Hepburn, Richard Notkin, Adrian Saxe, Nancy Selvin, Richard Shaw, Victor Spinski. Curated by David Furman.
Annals of my Glass House: Julia Margaret Cameron (2000)
— $16.00
With an essay by Mary Davis MacNaughton. 14 color illustrations, 24 pages (2000). Paperback.
In the Mind's Sky: Intersections in Art and Science (2000)
— $13.00
With an essay by Mary Davis MacNaughton. 12 color illustrations, 32 pages (2000). Paperback.
This catalogue accompanied the exhibition in the Fall of 2000. The catalog and exhibition look at the visual intersection of art and science, two disciplines that seem to take parallel paths that never cross. Their junction is found in the work of selected contemporary artists who take their artistic point of departure from scientific phenomena at opposite scales, fromthe unbelievably large to the astonishingly small. Features the work of Dennis Ashbaugh, Claire Browne, Mark Francis, Nancy Macko, Susan Rankaitis, Dr. David Somers, and Carol Saindon.
Alison and Lezley Saar (2000)
— $10.00
With an essay by Mary Davis MacNaughton. 14 color illustrations, 24 pages (2000). Paperback.
This catalogue accompanies the first exhibition in a new series devoted to contemporary women artists. Alison Saar, a Scripps alumna, and her sister, Lezley Saar, have created some of the most distinctive contemporary art in Los Angeles. Although the Saar sisters have shown their works at the same time in New York, this was the first exhibition to present work by the two of them together.
Susan Hertel: A Retrospective (1998)
— $20.00
With an essay by Mary Davis MacNaughton. 43 color illustrations, 80 pages (1998). Paperback.
Larger than Life: Robert Rahway Zakanitch's Big Bungalow Suite (1997)
— $16.00
5 three-page color foldouts and 8 color illustrations, 46 pages (1997), Paperback.
This catalogue showcases the work of New York painter Robert Rahway Zakanitch. The Big Bungalow Suite, a series of five enormous paintings, each 11 by 30 feet, which he painted from 1990 to 1994, is the culmination of more than two decades of his painting. Includes an interview with the artist by Mary Davis MacNaughton.
Revolution in Clay: The Marer Collection of Contemporary Ceramics (1994)
Essays by Kay Koeninger, Mary Davis MacNaughton, and Martha Drexler Lynn. 80 color and 17 b & w illustrations, 181 pages (1994), Paperback.
This exhibition highlighted a portion of the works in the immense Marer Collection of Contemporary Ceramics, which ecompasses nearly 900 works by American, British, Chinese, Korean, and Japanese artists. The exhibition featured works by: Laura Andreson, Hans Coper, Shoji Hamada, Jun Kaneko, John Mason, Peter Voulkos, Paul Soldner, Beatrice Wood, et al. Catalogue includes a complete listing of the Marer Collection.
This item is out of stock.
James Fuller: Watercolors from Brittany (1993)
— $10.00
By James Fuller. 14 color illustrations, 24 pages (1993). Paperback.
This catalogue presents a selection of watercolor paintings by James Fuller, a Professor of Art at Scripps College. Supported by a grant from the Albert and Elaine Borchard Foundation, Professor Fuller spent the spring of 1993 in Brittany, living in a chateau and painting specific sites in the French countryside.
Paul Darrow: A Retrospective (1992)
— $16.00
With an essay by Suzanne Muchnic. 19 color and 37 b & w illustrations, 62 pages (1992), Paperback.
This exhibition and catalogue were in honor of Paul Darrow, upon his retirement after thirty years of teaching Art at Scripps College. Over forty years of drawings, mixed-media prints, and paintings are showcased in this retrospective catalogue. Includes an essay by Suzanne Muchnic, a distinguished art writer for the 
Los Angeles Times
, and an alumna of both Scripps and Darrow's classes.
Johnson, Kaufmann, and Coate: Partners in the California Style (1992)
Essays by Alson Clark, David Gebhart, Jan Furey Muntz, Stefanos Polyzoides, et. al. 138 b & w illustrations, 144 pages (1992). Paperback.
Gordon B. Kaufmann, Reginald D. Johnson, and Roland E. Coate are among the talented architects who gave Southern California the sense of place we now take for granted. This collection of essays discusses their architectural works from Alson Clark's "Reginald D. Johnson: Regionalism and Recognition" to Stefanos Polyzoides' "Gordon B. Kaufmann, Edward Huntsman-Trout, and the Design of the Scripps College Campus."
This item is out of stock.
Paul Soldner: A Retrospective (1991)
Essays by Elaine Levin, Mac McClain, and Mary Davis MacNaughton. 35 color and 58 b & w illustrations, 128 pages (1991). Paperback.
This catalogue, and the exhibition it documents, celebrate the career of an extraordinary artist and teacher. Along with Peter Voulkos, Paul Soldner was the central figure of the ceramic revolution that began at Otis in the 1950s and irrevocably transformed the medium. Through his own inventive work, through the influence of his teaching at Scripps College, and through his Ceramic Annual exhibitions in Lang Gallery, Paul Soldner left an indelible mark on the ceramic art and artists of our time.
This item is out of stock.
Art at Scripps: The Early Years (1988)
— $6.00
By Mary Davis MacNaughton. 15 color and 21 b & w illustrations, 48 pages (1988). Paperback.
This exhibition and catalogue featured the works of full-time studio faculty of Scripps College — Jean Ames, Phil Dike, William Manker, Henry Lee McFee, Richard Petterson, Millard Sheets, Albert Stewart, Marion Stewart — as well as Alfredo Ramos Martinez, whose mural in the Margaret Fowler Garden is an important contribution to art at Scripps.
Earth and Fire: The Marer Collection of Contemporary Ceramics (1984)
— $10.00
With an essay by Mac McCloud. 4 color and 109 b & w illustrations, 82 pages (1984). Paperback.
This catalogue was published in conjunction with the 1984 exhibition of the Marer Collection of Contemporary Ceramics. Highlights include works by Jun Kaneko, Michael Frimkess, John Mason, James Melchert, Jerry Rothman, and Peter Voulkos.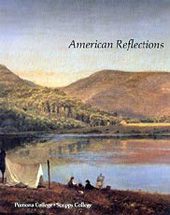 American Reflections (1984)
— $16.00
Catalogue by Marjorie Harth Beebe, Naomi Sawelson-Gorse, Kay Koeninger, Mary M. Longtin, Melinda Lorenz, and Arthur D. Stevens. Edited by Kay Koeninger. 3 color illustrations, 74 B&W, 144 pages (1984). Paperback.
Albert Stewart (1966)
— $30.00
Forewords by Douglas McClellan, David W. Scott, Robert B. Palmer, and Millard Sheets. 191 b & w and 4 color illustrations, 127 pages (1966). Hardcover.
This book celebrates the life and work of artist Albert Stewart, who taught at Scripps from 1939 to 1945. He is best known for his monumental public sculpture works including the great frieze of the Buffalo City Hall (1931), the pediment for the Department of Labor (Washington, D.C., 1935), and the figures of the Home Savings Fountain (Pasadena, CA, 1961).